BY CAR:
Motorway A14 or E45:
From the north on the A14 motorway take the exit signposted 'Cesena / Cesena Nord'.
From the south on the A14 motor take the exit signposted 'Cesena'.
From the south (Rome) on the E45 take the third exist signposted 'Secante – Stadio – Centro'.
Follow signposts for 'Centro Citta' (city centre)
If you need directions look at the Google Map location here: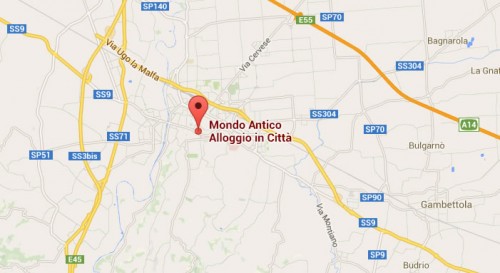 IN THE CITY CENTRE:
Please ensure that you take the correct route into the city (through the wall) as there are now areas in which vehicles without authorisation are prohibited and you will be fined. It is adviseable not to use a GPS system as it may take you the wrong way into the centre. Access into the centre (through the city wall) is available from Viale Carducci Via Paiuncolo is situated behind the Post Office in Piazza delle LibertaPlease follow the instructions below:
From Viale Carducci turn into Via Braschi, turn immediately right into Via Albertini, follow the round round to the left, Via Verdoni and go straight on, this bends to the left and then to the right which brings you directly to the Post Office. The small round to your left is Via Paiuncolo, to your right will take you to Piazza delle Liberta.
Directions: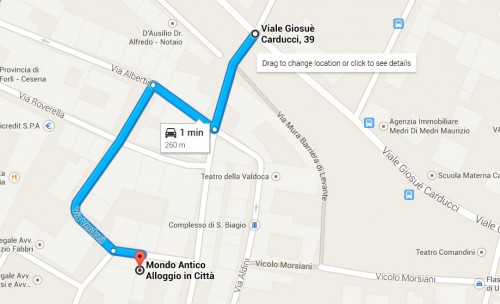 BY TRAIN:
Outside the station you will find a Taxi Rank. Ask them for Mondo Antico, Via Paiuncolo.
The bus station is directly opposite the station you can catch Bus No 5 which runs every 10/20 minutes. The bus stop will be 'Il Duomo' (The Cathedral) which you will then need to walk around to get to Piazza della Liberta.
By foot it will take you approximately 10/15 minutes. As you come out the station turn left and carry straight on to the roundabout where you turn right into Via Sozzi. Carry on to the traffic lights (you will see a bar on your right and the Police Station on your right. Go straight over again and this will take you up to the Barriera. Turn left on the main road and you will pass the Cinema Eliseo on your left. Turn right into Via Braschi and walk straight ahead which is slightly uphill until you come to Via Paiuncolo which will be your second right.
BY AIR:
Our nearest airports are Rimini (www.riminiairport.com) and Bologna (www.bologna-airport.it).
PARKING:
Between the hours of 6.30pm and 8am (all day on Italian bank holidays) car parking is free in Piazza della Liberta and on Viale Carducci. During the daytime you will need to pay.
For alternative day and night time parking you can use the underground car park at The Barriera near the Cinema which is a 5 minute walk away.
For day time parkin